Your website is the digital equivalent of your physical storefront, serving as the central hub where fans can learn more about you and your music. It's crucial to create a professional and captivating website that gives a positive impression. To achieve this, it's crucial to not only have strong artistic identity and branding with high quality assets, but also a focus on designing powerful sales pages that make your products and offerings more appealing.
When developing your website, prioritise user experience by ensuring it is easy to navigate and optimised for mobile devices. Your homepage should feature a clear call to action, guiding visitors to explore your music, videos, and merchandise pages. Additionally, include an engaging 'about' page that tells your unique story, allowing fans to connect with your personality and artistic journey.
Creating compelling sales pages is essential for showcasing and promoting your products effectively. A visually appealing layout is important, with attention-grabbing images of your merchandise. Ensure each product is accompanied by detailed descriptions that highlight its features and benefits. Incorporating customer reviews or testimonials can further enhance trust and credibility among your fans.
Remember that your website should provide a seamless and engaging experience for visitors. Regularly update your content, maintain a visually consistent aesthetic, and optimise loading speeds to keep fans engaged and coming back for more. Having a well-designed website with captivating sales pages, is a prerequisite for monetising your career and turning visitors into loyal customers.
When it comes to building the e-commerce functionality of your website, you have a few options to consider, such as using dedicated e-commerce platforms like Shopify or utilising template-based website builders like Squarespace or Wix.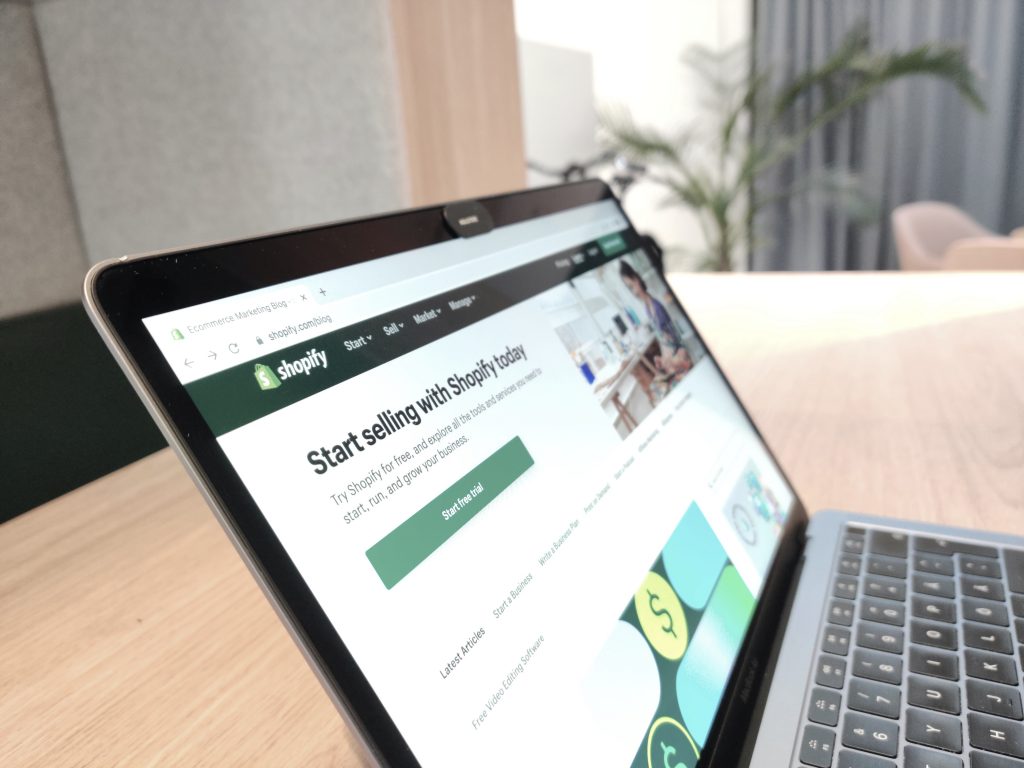 On the other hand, template-based website builders like Squarespace and Wix provide a user-friendly interface and a wide selection of pre-designed templates. These platforms allow you to build and customise your website without needing advanced coding skills, which makes these sites a more realistic and functional option for indie musicians.
Both Squarespace and Wix offer e-commerce functionality, enabling you to create an online store and sell your music, merchandise, and tickets directly from your website. They provide intuitive interfaces for managing products, setting up payment options, and handling order fulfilment. These platforms also offer responsive designs, ensuring your website looks great on both desktop and mobile devices.
When building your e-commerce functionality, consider the following:
Design and Branding: Choose a visually appealing template or design that aligns with your brand and showcases your music effectively. Customise the layout, colour schemes, and fonts to create a unique and engaging online store.
Product Listings: Clearly present your products, whether it's digital music downloads, physical merchandise, or tickets to shows. Include high-quality images, detailed descriptions, pricing information, and any available variations or options.
Payment Processing: Set up secure payment gateways that allow fans to make purchases easily and securely. Popular options include PayPal, Stripe, and credit card processors. Ensure that the payment process is smooth and seamless for your fans.
Order Management and Fulfilment: Implement an efficient system for managing orders, tracking inventory, and handling shipping and fulfilment. Keep your fans informed about order status and provide excellent customer service throughout the process.
Marketing and Promotion: Integrate marketing tools into your website to capture email addresses, promote special offers, and engage with your audience. Consider using pop-ups, exit intent forms, and email sign-up forms strategically to build your email list and nurture relationships with your fans.
Whether you choose Shopify or template-based platforms like Squarespace or Wix, it's essential to prioritise user experience, seamless functionality, and visually appealing design. Regularly update your content, optimise loading speeds, and ensure your website is mobile-friendly. By leveraging e-commerce functionality on your website, you can maximise revenue streams and provide fans with a seamless and enjoyable purchasing experience.
Building and maintaining an e-commerce website requires ongoing effort and optimization. Regularly analyse sales data, collect feedback, and make necessary improvements to provide the best possible experience for your fans.